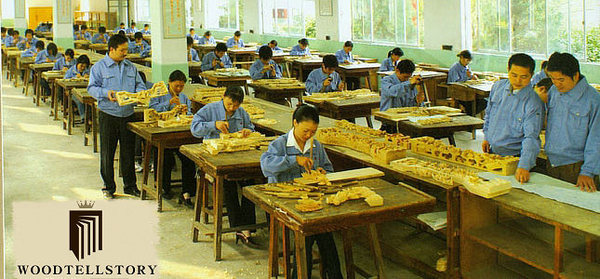 WOODTELLSTORY is one of the leading hand craved wood door and furniture manufacturers in China that specialize in creating personalized handcarved wooden doors and furniture in different styles. We are a studio of hand carvers in China and have an expert team of experienced and skilled woodcarvers. We offer a large number of carvings, including home decorative carvings, carved flowers and animals, wood furniture, doors, and frames, etc.
Our expert team can provide a perfect combination of quality and affordability when it comes to delivering classic option in front of the people looking for various options of hand craved products for their home. Customers can expect premium quality, artistic signature doors, and entrances, individually created by our expert craftsmen, wood-carvers, and metal-smiths. We offer endless options on size, design, thickness, or finish.
We work closely with our skilled and proficient designers and architects to achieve the finest results with reasonable lead times. We hand make interior and exterior doors in any style - limited only by your imagination. Our wood is naturally air dried to make magnificent tailored wood door designs - guaranteed "Forever" no questions asked. Our doors allow for maximum security that will last forever.
As a reliable hand craved wood door and furniture manufacturers, we always educate every one of our customers with full transparency and precise information and sources that makes stand out from the crowd. The products we deliver are worth satisfying by our beloved customers. Enhance the beauty of your interior or exterior with hand carved entryways built by master craftsmen and inspired by history.
With a vision to become a leading player in this industry, we always try to improve our efficiency in each step and offer the best outlook to our esteemed clients seeking for purchasing the best products within the budget. You can order your desired products online that will be directly shipped to your doorstep within a deadline. We ensure superior client satisfaction.
"Bringing wood to life and life to wood."
"Whatever you draw on paper, we carved it on your door."